Product Description
AQUATEK® Plug & Plug XF are cement based, fast & very fast setting plugging mortars for stopping active water infiltrations.
Advantages
Fast & very fast setting times for instant plugging of leaks and water infiltrations.
Can be used under water and to stop high pressure water leaks.
Perfect compatibility with concrete and masonry.
Field of Application
AQUATEK® Plug & Plug XF are suitable for:
Stopping active water leaks and seepage, even under high pressure, trough joints, cracks, honeycombing and holes in all structures made out of concrete, masonry, stone and cement based renders.
As a preparation before waterproofing injections or before application of waterproofing coatings.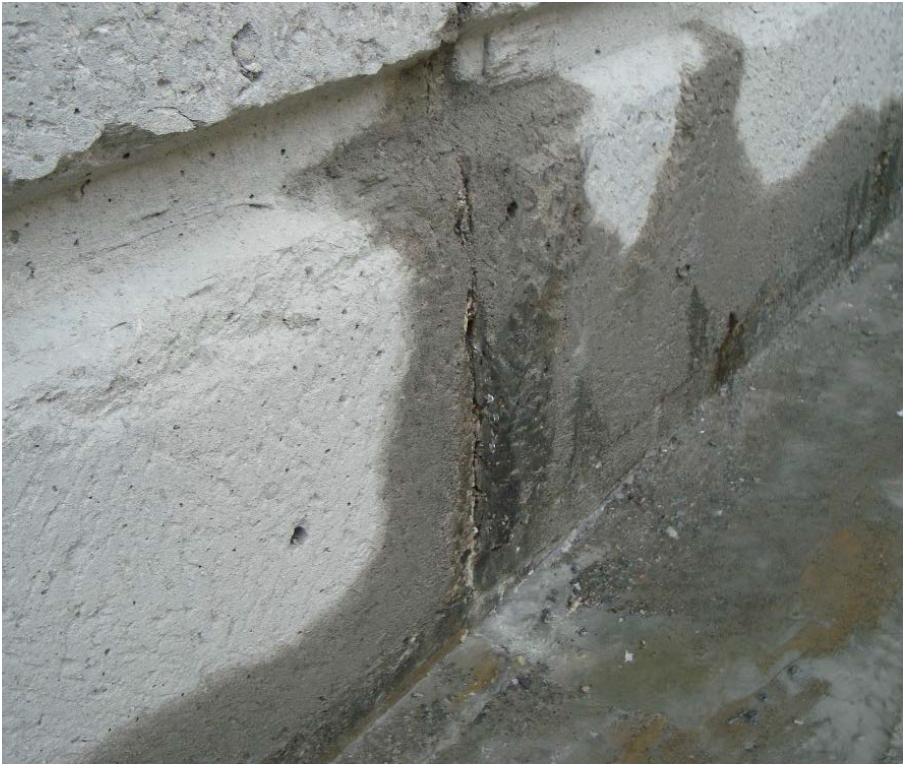 Product Properties
Technical Data/Properties(*)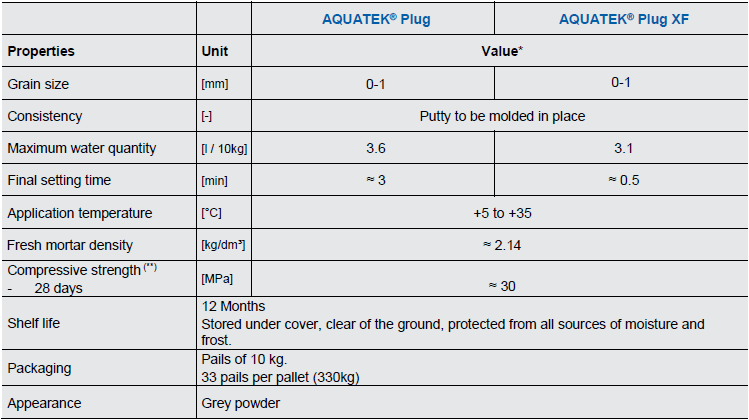 (*)Typical values in production control. All tests were executed under a conditioned temperature of 21°C and 65% RH.
(**) Compressive strengths measurements based on prisms.
1. Preparation of Substrate
The substrate has to be free from dirt, grease, laitance, loose concrete, loose particles or layers which could adversely affect adhesion.
Remove all damaged concrete and prepare substrate by sand or grid blasting, high pressure water jetting, or other methods until base concrete is exposed, offering sufficient roughness (bond) and open pores.
Cracks and holes should be cut out to a minimum width and depth of 10mm.
The substrate must be thoroughly pre-wetted with clean water until the substrate is saturated.
2. Mixing
AQUATEK® Plug & Plug XF need to be mixed manually with clean water until a putty consistency is achieved.
Because of the fast setting, the material is mixed in small quantities, approximately 1kg per batch, and applied immediately. Do not prepare more material than can be used within the open time of the material.
3. Application
The material must be manually molded into an appropriate container until the material becomes slightly warm.
Apply the material when it is stiff, but still plastic. Press the material into the cavity and keep in place by exerting pressure until the mortar has become solid.
Do not release pressure to quickly. The material must have developed sufficient strength to withstand the water pressure.
The material can be applied in several layers. Especially when applying in large voids, work in several application steps. Use a limited amount of material with each step. In some cases it is required to use drainage pipes to release water pressure during application of the material.
4. Curing
Curing and setting times will depend on ambient and substrate temperatures.
Due to rapid hydration, AQUATEK® Plug & Plug XF will develop a high temperature. In order to prevent rapid loss of water, dampen the hardening material with clean water for approximately 15 minutes after application.
5. Cleaning and maintenance
Mixing and application equipment should be cleaned immediately with clean water. Hardened material needs to be removed mechanically.
6. Special remarks
Cementitious materials can lead to incompatibilities under certain conditions in combination with non-ferrous metals (such as aluminium, copper, zinc).
Low temperatures delay the setting of the material.
High temperatures accelerate the curing and decrease the open time of the material.
Health & Safety
AQUATEK® Plug & Plug XF are products based on cement and can therefore cause burns to skin and eyes, which should be protected during use. Wear gloves and protective eye shields. Wearing a dust mask is advised. Treat splashes to eyes and skin immediately with clean water. Consult a doctor when irritation continues. If accidentally ingested, drink water and consult a doctor. Users must comply with all risk and safety phrases. MSDS's can be obtained from GCP Applied Technologies or from our website. GISCODE ZP1.
gcpat.hk | Hong Kong customer service: 852 2675 7898
We hope the information here will be helpful. It is based on data and knowledge considered to be true and accurate, and is offered for consideration, investigation and verification by the user, but we do not warrant the results to be obtained. Please read all statements, recommendations, and suggestions in conjunction with our conditions of sale, which apply to all goods supplied by us. No statement, recommendation, or suggestion is intended for any use that would infringe any patent, copyright, or other third party right.
Betec® is a trademark, which may be registered in the United States and/or other countries, of GCP Applied Technologies Inc. This trademark list has been compiled using available published information as of the publication date and may not accurately reflect current trademark ownership or status.
© Copyright 2017 GCP Applied Technologies Inc. All rights reserved.
GCP Applied Technologies Inc., 62 Whittemore Avenue, Cambridge, MA 02140 USA.
In UK, GCP Applied Technologies, 580-581, Ipswich Road, Slough, Berkshire, SL 1 4EQ. EQ.
Printed materials intended for use in Hong Kong only.
Last Updated: 2018-11-30
https://gcpat.hk/en-gb/solutions/products/aquatek-plug-plug-xf