Bituthene® 3000/3000 HC (2mm)
High performance waterproofing membrane for sub-structures and flat deck applications
Product Description
Bituthene® 3000/3000 HC (2mm) is a high performance, cold applied, flexible, preformed waterproof membrane combining a special high performance, cross-laminated, HDPE carrier film with a unique self-adhesive rubber bitumen compound.
Product Advantages
Waterproof  - High hydrostatic head resistance.
High density, cross-laminated polyethylene film
Provides dimensional stability.
Provides puncture resistance.
Single layer - Simple, reliable, low labour cost with the benefit of site programmed installation.
Gas-resistant - Methane, carbon dioxide and radon gas protection in excess of the standard membrane requirements in BRE Reports 211 (radon) and 212 (methane and carbon dioxide).
Cold applied
No flame hazard.
No heating required.
Self-adhesive rubberised asphalt - Continuity ensured at overlaps.Unique rubber/ bitumen formulation allows healing of small puncture.
Factory controlled thickness - No variation by site practices.
Chemically-resistant - Provides effective external protection against aggressive environments and ozone attack.
Flexible - Accommodates minor settlement and shrinkage movement.
Tanking security - Combined flexible membrane and waterstop system for security.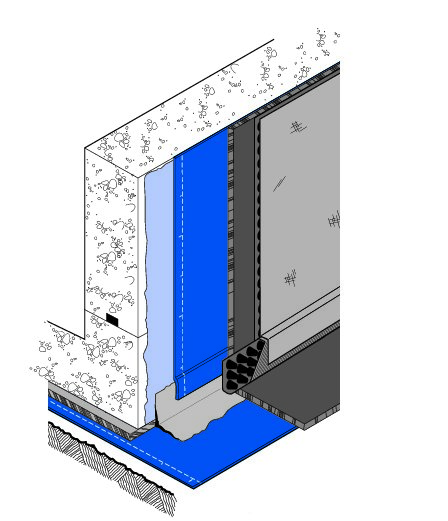 Applications
Basement

Sub-structures

Flat decks

Roof assemblies

Elevated or grade level podiums

Plaza decks / Roof gardens / Terraces
Installation
Measures should be taken to ensure that all surfaces are free from ice, frost or condensation. Roof slab surfaces must be dry, and free from sharp protrusions, and any hollows to be filled with high strength mortar.
Horizontal and vertical faces must be smooth, regular, dry and free from nails. Prime the horizontal and vertical surfaces with one coat of Bituthene Primer applied by brush or roller at a rate of 6 to 8 sq m / L depending on the porosity of the surface, and allow to dry completely before the application of Bituthene 3000/3000 HC (2mm).
Physical Properties
Property
Typical Values
Test Method
Colour
Dark Grey
NA
Nominal Thickness*
2mm
NA
Tensile Strength of Membrane
4N / mm
ASTM D412 modified **
Elongation Of Membrane (To
Ultimate Failure of Rubberised
Asphalt)
200%
ASTM D412 modified **
Lap Adhesion @23oC
683N / m
ASTM D1876
Cycling Over Crack @-32oC
No effect 100 cycles
ASTM C836
Puncture Resistance of Membrane
>220N
ASTM E154
Resistance to Hydrostatic Head
60m
ASTM D5385
Typical test values represent average values from samples tested. Test methods noted may be modified.
*      Nominal thickness refers to the thickness of the membrane without release liner.
**    The test is run at a rate of 100mm per minute.
Please consult your local GCP representative on recommended installation temperature.
Supply
| | |
| --- | --- |
| Pack Size | 1m x 16m roll (16sq m) |
| Gross Weight | 40.5kg |
| Storage | Dry conditions below +35oC |
Bituthene 3000/3000 HC (2mm) should be laid by peeling back the protective silicone release paper and applying the self- adhesive face on to the surface to ensure good initial bond.
Adjacent rolls are aligned and overlapped 50mm minimum at side and 50mm*** at ends, and the overlaps well rolled with a firm pressure using a lap roller to ensure complete adhesion and continuity between the layers.
Following the application and inspection, care should be taken to prevent damage by following trades. As soon as practicable after the application, Bituthene 3000/3000 HC (2mm) should be protected from exposure to the weather and physical damage using Bituthene protection boards, insulation or Hydroduct® drainage composites laid dry.
Any punctured or damaged areas should be cleaned and patched using Bituthene 3000/3000 HC (2mm) with minimum 50mm laps all around.
The junction between the slab and parapet shall have a fillet of Bituthene Liquid Membrane or other acceptable methods placed firmly into position before using 300mm wide reinforcing corner strips of Bituthene 3000/3000 HC (2mm) placed centrally over the axis of the change of direction.
*** For usage in China mainland, please follow China GB code requirement for lapping. For more details, please contact your local GCP representative.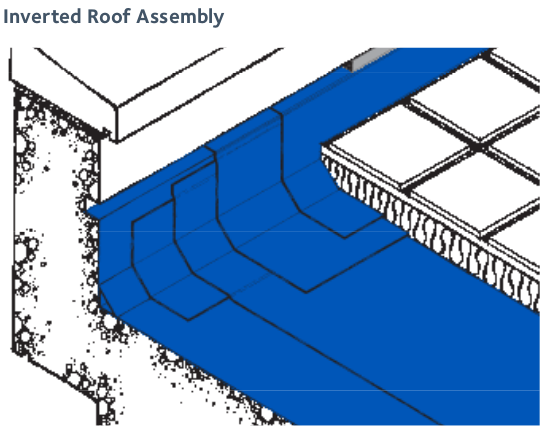 Always apply Bituthene membrane directly to primed or conditioned structural substrates. Insulation, if used, must be applied over the membrane. Do not apply Bituthene membranes
over lightweight insulating concrete.
Health and Safety
Refer to relevant Material Safety Data Sheet.
Quality Assurance
GCP Applied Technologies is certified to ISO 9001 by TUV SUD PSB Pte Ltd.
Technical Services
For assistance with working drawings for projects and additional technical advice, please contact GCP Applied Technologies.
gcpat.hk | Hong Kong customer service: 852 2675 7898
Australia 1800 855 525 email: au.sbmsales@gcpat.com New Zealand +64 9 448 1146 China Mainland +86 21 3158 2888Hong Kong +852 2675 7898 India +91 124 488 5900 Indonesia +62 21 893 4260 Japan +81 3 5226 0231 Korea +82 32 820 0800 Malaysia +60 3 9074 6133 Philippines +63 49 549 7373 Singapore +65 6265 3033 Thailand +66 2 709 4470 Vietnam +84 8 3710 6168
We hope the information here will be helpful. It is based on data and knowledge considered to be true and accurate, and is offered for consideration, investigation and verification by the user, but we do not warrant the results to be obtained. Please read all statements, recommendations, and suggestions in conjunction with our conditions of sale, which apply to all goods supplied by us. No statement, recommendation, or suggestion is intended for any use that would infringe any patent, copyright, or other third party right.
Bituthene, Adcor and Hydroduct are trademarks, which may be registered in the United States and/or other countries, of GCP Applied Technologies, Inc. This trademark list has been compiled using available published information as of the publication date and may not accurately reflect current trademark ownership or status.
© Copyright 2016 GCP Applied Technologies, Inc. All rights reserved.
GCP Applied Technologies Inc., 62 Whittemore Avenue, Cambridge, MA 02140, USA Printed in Singapore | 04/16 | 300-Bituthene-26
This document is only current as of the last updated date stated below and is valid only for use in Hong Kong. It is important that you always refer to the currently available information at the URL below to provide the most current product information at the time of use. Additional literature such as Contractor Manuals, Technical Bulletins, Detail Drawings and detailing recommendations and other relevant documents are also available on www.gcpat.hk. Information found on other websites must not be relied upon, as they may not be up-to-date or applicable to the conditions in your location and we do not accept any responsibility for their content. If there are any conflicts or if you need more information, please contact GCP Customer Service.
Last Updated: 2020-01-16
https://gcpat.hk/en-gb/solutions/products/bituthene-post-applied-waterproofing/bituthene-30003000-hc-2mm