Sustainable construction products and technologies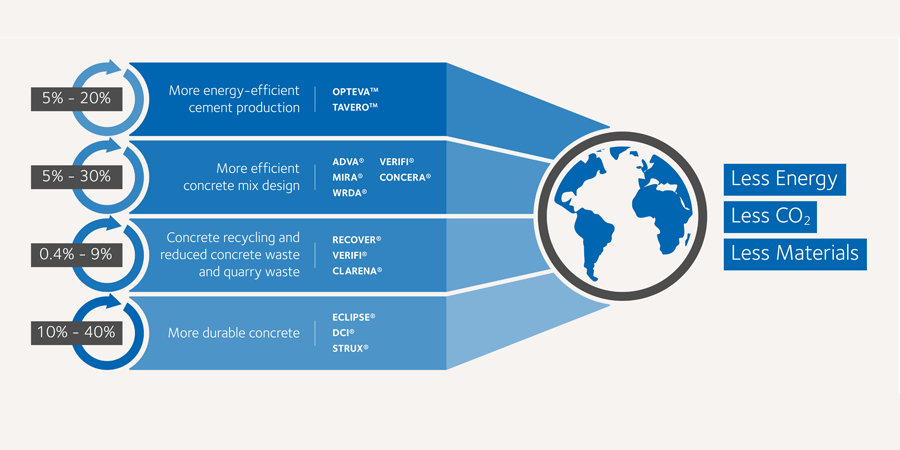 SUSTAINABLE CONCRETE | SUSTAINABLE CEMENT | SUSTAINABLE BUILDING ENVELOPE
SUSTAINABLE CONCRETE
Considering cement production—a primary component of concrete—accounts for roughly 5% of the entire global emissions carbon footprint, producing more sustainable concrete is among the most important topics in construction today. In addition, new IoT technologies like in-transit concrete management systems can reduce fuel consumption for ready-mix fleets and minimise rejected loads. Concrete admixtures can also optimise the production process for sustainability.
---
VERIFI® in-transit concrete management system can make ready-mix plants more sustainable
The VERIFI® in-transit concrete management system uses truck-mounted sensors, advanced data analytics and automated admixture inputs so that ready-mix concrete moves from the plant to the job site more efficiently and with minimal waste. This patented technology provides concrete producers with several financial and sustainability advantages: 
Improved quality control enables customers to meet strict performance requirements without the need to over design mixes with unnecessary cement.
More accurate inputs of water and additives reduce the number of rejected concrete loads, and their associated costs and environmental impacts.
Fewer concrete drum rotations on the way to the job site can lead to substantial fuel savings – bringing costs and environmental impacts down even further.
The VERIFI® system can help ready-mix plants earn sustainability certification
A ready-mix plant can earn points in NRMCA's sustainability criteria of "material acquisition," "production," "delivery & acquisition" and "material reuse and recycling," by incorporating an in-transit concrete management system into its truck fleet.
Ready-mix truck time optimization
Two recent Concrete Producer articles detail how fictional ready-mix producer WW utilised technology like mobile devices and an integrated CRM (customer relations management) to save precious, profitable time.
If WW had incorporated hardware and software, like an in-transit concrete management system, into its fleet, they could have saved even more time on average at both ends of delivery—the plant and jobsite. The reason: consistent, continual, automated slump management, as the ready mix concrete mixes in the truck between plant and jobsite. The result is quicker dispatching from the plant and less time spent on the jobsite; since the concrete will arrive within target slump and can pour immediately.
---
Reducing your carbon footprint with concrete admixtures
Concrete admixtures can reduce the amount of cement needed to achieve a given strength specification, for more sustainable concrete. Admixtures are formulated chemicals, often in liquid form, added to concrete at very low quantities, either during the batching or mixing process. Their primary function is to improve the properties of concrete, in its plastic and/or hardened states.
Answering the growing call for environmentally-friendly concrete construction
Until recently, the only way to produce high flow concrete without segregation was to use a higher cement content and a higher ratio of fine to course aggregates, as is the case with self-consolidating concrete. Fortunately, emerging technologies like control flow concrete are offering new high flowing, more sustainable concrete options to the industry.
Is concrete a sustainable building material?
When we think about sustainable concrete, the environment is not necessarily the first thing that comes to mind. But this popular building material actually provides a number of significant environmental benefits. Concrete production reuses/reduces waste; extending building lifespan; cools urban heat islands; reduces storm water runoff; and is itself recyclable as a building material.
---
SUSTAINABLE CONCRETE | SUSTAINABLE CEMENT | SUSTAINABLE BUILDING ENVELOPE
SUSTAINABLE CEMENT
Cement Additives and Concrete Admixtures
GCP products can improve environmental performance for our cement and concrete customers. Our grinding aids and quality improvers make cement manufacturing more efficient, reducing carbon emissions. Our concrete admixtures reduce the amount of cement needed to achieve a given strength specification.  Other products reduce quarry waste, lower total project costs, and enhance worker safety.
---
The economic demands for sustainable cement production
Cement production discharges more than 500,000 tons of sulfur dioxide, nitrogen oxide, and carbon monoxide a year into the atmosphere. However, what is really driving many cement producers to adopt more sustainable practices is economics. Energy costs represent 20-40% of the total production costs in the cement industry, based on U.S. Department of Environmental Protection (EPA) estimates. The EPA's ENERGY STAR program offers a number of examples of how cement manufacturers can improve energy efficiency and save money.
---
Advanced quality improvers and grinding aids for efficient, sustainable cement production
These products meet the demands of modern cement plants for solutions that yield more sustainable cement production, with enhanced quality and improved cost efficiency:
OPTEVA™ HE quality improvers are cement additives that provide options for gaining higher early (HE) strength and are particularly effective for challenging cements.
TAVERO™ VM grinding aid additives help stabilize vertical roller mills (VM) during production by reducing water injection requirements and cement pre-hydration, while at the same time improving cement performance by delivering higher strengths and shorter setting time.
Global carbon tax drives demand for cement grinding optimization
One way to tackle this issue is through a carbon tax – a fee imposed on the burning of carbon-based fuels. This is a core policy in many countries for reducing and hopefully one day eliminating the use of fossil fuels, whose combustion is destroying our climate.
---
SUSTAINABLE CONCRETE | SUSTAINABLE CEMENT | SUSTAINABLE BUILDING ENVELOPE
SUSTAINABLE BUILDING ENVELOPE
Sustainable design creates buildings that are beautiful and functional, with improved social and environmental performance, while saving money through more efficient use of energy and materials. Sustainable buildings safeguard human health and safety; minimise negative environmental impacts; exhibit resilience during severe weather; and extend the structure's useful life.
---
Understanding gas vapour remediation
Developers are increasingly facing the challenge of protecting new structures from harmful gases in the soil. Even when layers of soil are removed from industrial sites and other brownfields, gas barrier protection is often still needed because a certain amount of vapours remain that may be harmful to human health.
Building on brownfields
Obviously there are cases where developing on brownfields—sites contaminated from centuries of industrial development—is not a wise choice, due to the level of health and safety hazards and/or the high cost of the cleanup. However, many sites are viable for building, if properly remediated.
Environmental Product Declarations: Assessing the impact of building materials
What is the environmental impact of the materials used in your buildings? Building owners and architects are increasingly asking that question as LEED and other "green building" standards grow in popularity. One sustainability-related document that is in especially high demand is the Environmental Product Declaration (EPD).
How air leakage can impact building durability
Water is essential for human life, but for buildings it can be a contributing factor to an early deterioration. When moist air hits a cooler surface within a wall structure, water vapor in the air can condense and collect inside these spaces. This moisture can then be absorbed in various building materials and cause a host of serious structural problems.
The secret to making buildings more energy efficient is in the air
Here's a surprising fact: In 2016, buildings consumed about 40% of the total energy used in the U.S. All that energy consumption adds up to a significant production of "greenhouse gas"; buildings produced 39% of all CO2 emissions in the U.S. in 2004, and that number has been rising. Whether one is concerned about energy costs, energy independence, or the potential impact on our climate, there are plenty of reasons for making buildings more energy efficient.
How much can air barriers save? 
Air leakage in residential and commercial buildings is a major source of energy waste. According to the U.S. Energy Information Administration, buildings consumed about 40% of the total energy used in the U.S. in 2016. Making buildings tighter through the proper use of continuous air barriers can help significantly reduce this energy usage—but by how much?
Green roofs are growing like wild
From Chicago City Hall to Tokyo's Imperial Hotel, green roofs are growing like wild. They've been well established in Europe for years, and now have taken hold in the U.S., with roughly 8.5 million square feet of green roofs installed or in process since June 2008.
Top questions to ask when designing a green roof
How do you ensure that your client's vision of a green roof is realized? Today we had the pleasure of talking with Nick Smith of green roof system specialist Zinco International. He shared some key considerations to keep in mind when designing a green roof.
Green roofs alleviate urban heat islands
Green roofs, a growing trend all over the world, are one of the most comprehensive answers to alleviate heat generated from urban heat islands (UHIs). They can grow, flourish atop city roofs and bring the temperature down in a number of ways, including evapotranspiration and acting as an insulator.
Tags
Air Barriers
Architects
Building Envelope Solutions
Cement Grinding
Cement additives
Cement production
Concrete
Concrete admixtures
Contractor
In-Transit Concrete Management
Precast producer
Producer
Ready Mix
Roofing Underlayments
Structural Solutions
Water Reducer
Waterproofing