Protecting the life of your car park
Specifying your waterproofing system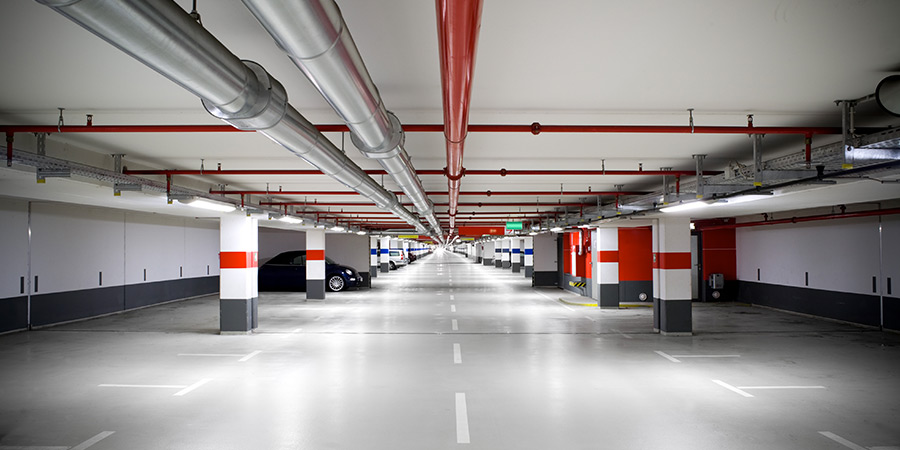 There's a common misconception that car parks require minimal waterproofing. We have even heard of instances where a car park is not waterproofed at all. However, owners of car parks can confirm that skimping on this step can lead to major structural damage, high maintenance costs as well as disruption of business while leaks are repaired. Here are some factors to keep in mind when specifying waterproofing for a car park.
Car parks need added protection.
For exposed car parks (i.e., with an open top deck), the goal of the waterproofing system is to prevent rainwater from entering the top deck and leaking through to lower levels. This involves using quality waterproofing, and adding a top coat over it if the area will be left exposed.
For basement car parks, the goal is to prevent ground water from penetrating through the concrete into the car park structure and causing leaks. In this instance, waterproofing should be applied both within the car park structure as well as around the outside of the concrete structure.
In both types of car parks, the concrete is subjected to fuel and chemical spills, abrasion damage from car tyres, and high traffic from people as well as shopping carts. That's why it's important for the waterproofing solution to stand up under an array of conditions—including heavy traffic, high temperatures, and chemical exposure.
Safety is key. There are a number of ways you can protect car park visitors. Properly designed waterproofing systems should prevent uneven surfaces that could lead to falls. Additionally, some waterproofing systems offer skid-resistant finishes to minimise slips and falls and prevent vehicles from skidding.
Aesthetics are important. Having a bright, attractive space is important for any car park business.
Look for long-term durability. When evaluating waterproofing solutions, check the product specifications to determine how long the product will last. There are low-cost epoxy liquid waterproofing solutions, for example, that have low elongation and crack-bridging ability and will need to be replaced more quickly than higher performing liquid waterproofing membranes.
Additional factors to look at include each product's tensile strength, adhesion strength and chemical resistance. Abrasion resistance is another key consideration, particularly for car parks that house heavy vehicles since they can do more damage to the concrete over time.
Consider UV protection. If there are exposed deck areas of the car park, look beyond epoxy solutions, which can degrade quickly under ultraviolet light (UV). Instead, consider a waterproofing solution that can withstand high tropical temperatures with UV protection.
Investigate application times. Check with the waterproofing system manufacturer to see what's involved with system application. How quickly does the liquid waterproofing system cure? How is it applied (by hand or by spray?) What is the typical application rate? Are there any weather/temperature conditions when it can't be applied? How soon can it be walked on / driven on after application? Choosing a solution that can be applied and cured quickly can help accelerate construction or repairs and minimise any downtime of your car park.
Tags
Architects
Building Envelope Solutions
Commercial buildings
Consultant
Infrastructure
Residential buildings
Retail buildings
Silcor®
Sports stadiums
Waterproofing